As part of our service to the community, we have been getting involved with several charities – because SYSA cares!
---
DARG ANIMAL RESCUE
SYSA, as always, saw an opportunity to give back to a community in need and Isobel Odendaal immediately made a large donation to DARG Animal rescue (www.darg.org.za), where, in the week after the fire, they have assisted and saved over a hundred displaced and injured animal victims.  Should you wish to assist these helpless animals, please contact them at +27 21 790 0383.
What a lovely response from Nathalee Kamieth from DARG:
"Many thanks for your kind consideration for the animals of Imizama Yethu and DARG during this difficult and tragic time.  We confirm receipt of your extremely generous donation.  Thank you for your support!"
Displaced and Affected People of Imizamo Yethu
After the fire, Cherie Hunter, Jason's wife, also jumped in and took several families directly affected by the fires to a local mall to shop for essentials, such as clothes, food, toiletries – all sponsored by SYSA.  We are proud to be of assistance in our local Cape Town communities, because life is better when you care about others!  For any assistance to the displaced and affected people of Imizamo Yethu, please contact 
www.thula-thula.org
---
DONATION FOR SANTA SHOEBOX PROJECT
Each year, the Santa Shoebox Project aims to collect a donation of 100 000 boxes for needy children all over South Africa and Namibia. SYSA did their part by donating a total of 20 boxes for children aged 4 – 5 years. After 3 long days, the boxes were wrapped and packed and ready to be dropped off at the central drop-off points. What a satisfying and rewarding project to be a part of!
Thanks to Andre Greeff, 3@1 Plattekloof and MAKRO Milnerton for your assistance – you are all stars!
The boxes were donated by MAKRO Milnerton and 3@1 Printers Plattekloof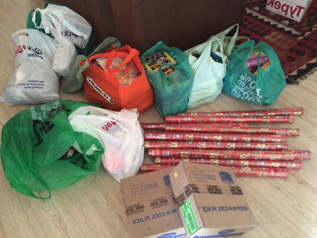 Shopping done!
And of course don't forget the sweeties!
The contents all laid out and the boxes about halfway
Finally done!! Enjoy the gifts, little ones.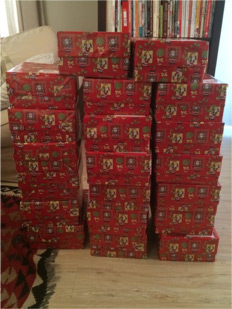 For more information about this project, please visit: www.santashoebox.co.za
---
SPONSORSHIP FOR MDZANANDA ANIMAL CLINIC – KHAYELITSHA

We read a post about Tamlu, a maintenance Assistant at the Animal Clinic – it was his life dream to go on a boat trip. We figured, who better to assist than all of us at SYSA! We sponsored a sunset cruise for him in and around the V&A Waterfront in Cape Town, also with a donation of pocket money for his transport from Khayelitsha and for his outing.
This was the response we received from his employers:
"Hi Isobel. Wow, thank you so extremely much for this wonderful gift. You won't believe what this will mean to him, it is an absolute dream come true for him. We have not told him yet, but he is going to be over the moon. Thank you so very much!!! We really appreciate it that you have helped to make a dream come true. Thank you also for the 'Fun Money' also donated. This is so extremely generous. We will definitely send pictures after he went on the trip. Thank you so much!"
To find out more about donating towards this wonderful organisation: www.mdzananda.co.za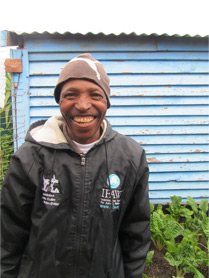 ---
SOUP PROJECT – CAPE TOWN
SYSA is always getting involved in local charity projects – here is our latest one! Each month, Isobel cooks large amounts of soup and delivers it to a local community feeding project in the Milnerton area.
Here is a photo of the latest batch – 3 huge pots of yummy vegetable goodness – a blessing in the cold winter weather!
SYSA CHARITY DONATION FOR AFRICAN TAILS
SYSA's latest charity project – on a cloudy day in May, Isobel Odendaal, Cherie and Tristan Hunter went shopping – like animals – for the animals!
SYSA believes in giving back to our community and we shopped for blankets, dog and puppy food, cat and kitten food, tick shampoo, food bowls, collars and leashes, animal medicine and toys for our chosen charity – AFRICAN TAILS.
Their aim is to give every abused and neglected street dog the happy ending they deserve. Sure, the township isn't the ideal setting for a fairytale-style happy ending. But that doesn't mean it can't be done.
Whether it's finding a puppy a loving new home, feeding a starving stray, curbing the cycle of over-population through regular sterilisation campaigns or simply euthanasing a suffering animal, African Tails is doing its best to write new stories of hope and triumph in the places that truly need them most.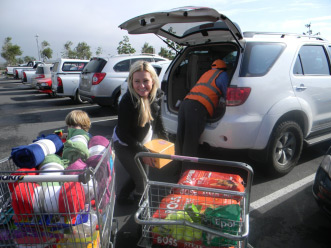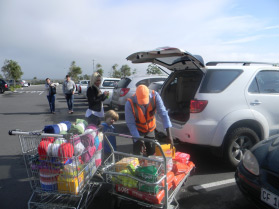 The precious cargo is loaded by Tristan and Cherie and our helpful parking attendant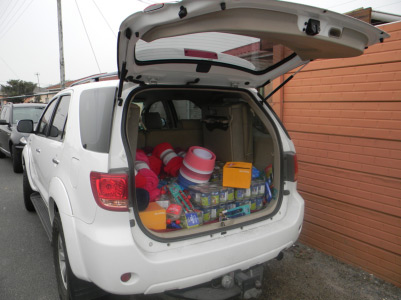 Our arrival at African Tails Office on Koeberg Road with the "SYSA mobile"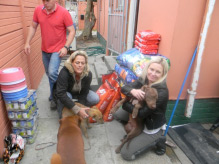 Veronica Nel, General Manager of African Tails welcomes us (with some of the beautiful rescue pups awaiting homes)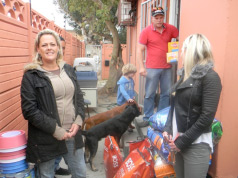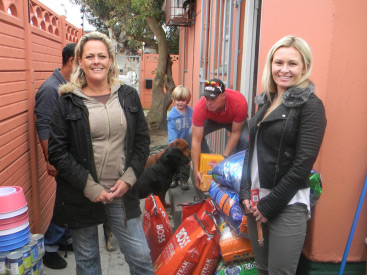 Tristan and the rescues doggies in the background overseeing the delivery and doing quality control
---
OUT OF AFRICA CHILDREN'S FUND AND TABLE VIEW BABY SAFE
Their primary purpose is to improve the quality of life for children facing life-threatening and terminally illnesses, as well as saving abandoned babies in South Africa.  They support the needs of the children and their immediate family in the most dignified and compassionate manner.
We donated hundreds of baby clothing items for the "Baby Safe" project – providing a safe, confidential and dignified option to mothers who feel like they cannot cope with a newborn baby.  Unfortunately, yearly, a vast number of babies are abandoned in dumpsters, rubbish piles and in storm drains over South Africa.
To become involved in this wonderful cause, please view: www.outofafricacf.org


---
Our donation to the Out of Africa Children's Fund was handed out to mothers and children of Tygerberg Hospital during INTERNATIONAL MANDELA DAY – 18 July 2011
During a celebration of the "Mandela 67 minutes" on 18 July, Out of Africa Children's Fund spent the day with the children of Tygerberg Hospital.  Several companies joined in to make the children feel special and hand out gifts and care packages.  Our baby clothes donation was handed out to mothers with small babies – what a special way to say:  "we care".
It is a blessing to be part of Kim Ferroli-Highfield's wonderful campaigns and projects!
Our baby items being handed out by Kim (CEO of Out of Africa) to a brave mommy with a sick baby in Tygerberg Hospital.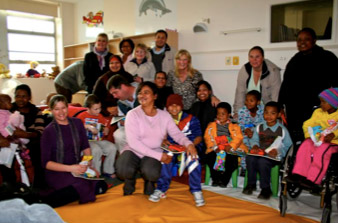 The wonderful people and children at Tygerberg Hospital.
The SYSA team was very busy on Mandela Day – there were several training courses and marketing projects going on, so our "67 minutes" (more like 4 hours) took place on 17 July – Isobel made a whopping 200 sandwiches, dropped them off at Joe Slovo Informal Settlement in Milnerton, where an informal trader welcomed her at her "Spaza Shop", where she normally sells BBQ chicken and what looked like tripe.
The sandwiches were part of an empowerment initiative – the shopkeeper sold the sandwiches at R2.00 each and therefore we happily contributed to her business and her meagre salary as an informal shopkeeper.
Isobel also could not resist handing out some of the sandwiches to little children playing in the area – and provided for some hungry tummies on that sunny Sunday afternoon.
---
ANGEL KNITTERS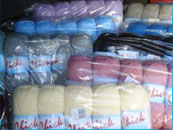 We also joined in to donate a almost a 100 yarns of wool for a group of volunteers, the Angel Knitters, mostly consisting of elderly and retired ladies who knit various winter items for Hospice and other charities. They receive no funding and we thought this is an excellent way to help out such a lovely group of people!!
One of the ladies in this group is 92 years old! Recently, they delivered 170 pairs of gloves, 400 woollen hats and currently working on 200 baby jackets and 230 pairs of gloves! That is some serious knitting!!